Humidifiers
AprilAire Humidifier Installers
The long Chicago winters mean dry indoor air when you don't install a humidifier. Dry air makes you feel colder because it dries the moisture from your skin without a humidifier installed. Dry air also causes the framing around doors and windows to shrink, allowing cold Chicago air to enter in through the gaps and makes your furnace work harder to keep the house warm. When you install a humidifier you eliminate high energy bills, itchy skin, bloody noses, static shock and so on. Our humidifier installers can install a new humidifier in just a few hours that will keep your family comfortable all winter long.
FREE ESTIMATES ON HUMIDIFIER INSTALLATIONS, CALL 773-219-1102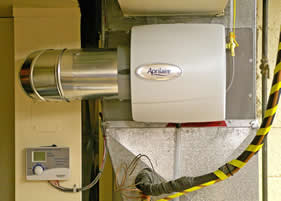 Install a New AprilAire Humidifier
When you don't have a whole house humidifier installed dry, heated air causes ceilings and walls to crack and hardwood floors to separate. Have an expensive musical instrument, antique furniture or fine art? All of these items can be crack and warp without a humidifier installed. Computers and other home electronics can suffer serious damage from static shock without a humidifier installation. Our humidifier installers have seen first hand that any of these problems could easily cost more to repair or replace than the price of an whole house humidifier installation.
AprilAire Humidifier Installers
If you are investing in the cost savings of a high efficiency furnace and air conditioner, it's the perfect time to install a humidifier. Installing a humidifier for the dry winter months in Chicago will leave your family feeling warm and comfortable. Call 773-219-1102 to learn even more about AprilAire Humidifiers.
Only NATE Certified Technicians to install your humidifier. In addition to being trained and certified, our heating air conditioning technicians are licensed, bonded and insured. Why leave the installation of your humidifier to anyone else?